The Chevrolet Corvette ZR1 lights up the L.A. Auto Show
November 30 2017,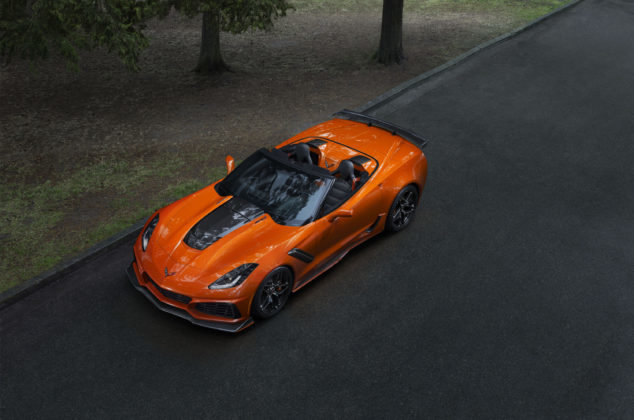 The brand new Chevrolet Corvette ZR1 will never be a best-seller, and it is certainly not a vehicle that you will see often on the road. That said, it is perhaps one of the most impressive statement cars in the automotive industry, and thanks to incredible power and a muscular, aggressive design, it will have many exotic car enthusiasts (and owners) dreaming of Chevrolet at night.
Better yet, for the first time in more than 40 years, you can get your Chevrolet Corvette ZR1 with a drop-top. In doing so, you'll enjoy summer like never before while also having an unrestricted ear to the ZR1's incredible exhaust note.
100 km/h is reached in 3.0 seconds with the brand new Chevrolet Corvette
Reading the specs of the brand new Chevrolet Corvette ZR1 without having your jaw drop is basically impossible. Under the massive and bulging hood is a 6.2-liter supercharged V8 engine that, wait for it, delivers 755 horsepower and 715 pound-feet of torque. That's good enough to rocket the new ZR1 to 100 km/h in about 3.0 seconds, crossing the quarter-mile in about 10 seconds, and easily clearing 300 km/h.
Both the coupe and convertible will be firmly planted on the road, especially if you opt for the optional massive rear wing that can provide up to almost 1,000 pounds of downforce. Think about that for a second and how impressive that is.
The convertible will share the same underbody, suspension setup, and chassis as the coupe, and the added weight of the convertible setup is minimal with an extra 60 pounds, nothing more, added to the 3,560 pound curb weight of the coupe.
As you can expect, the Chevrolet Corvette ZR1 will be incredibly loud as well. There will be a total of four exhaust modes that range from loud to very loud, but there will also be one Stealth mode that can be used when you don't want to wake up your entire neighborhood.
Contact us today at Bruce GM Digby to learn more about Chevrolet's lineup of new vehicles including the brand new Chevrolet Corvette ZR1.