2016 Chevrolet Malibu: It's Back
December 21 2015,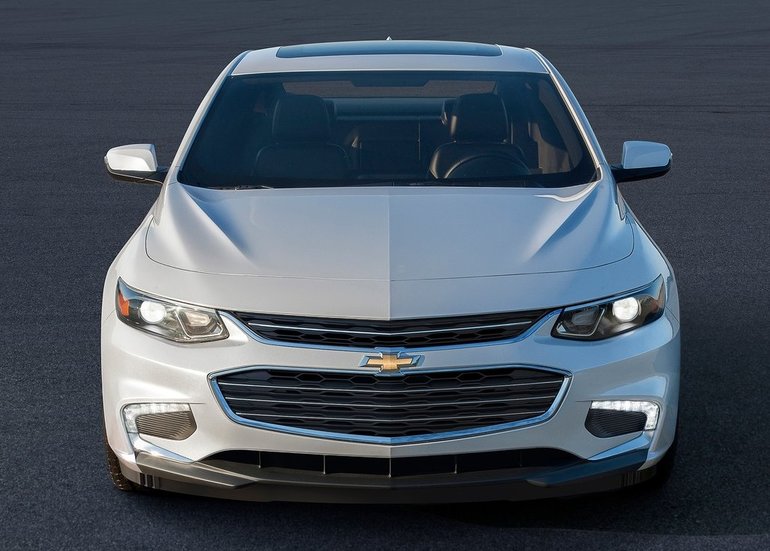 Gorgeous to look at, fun to drive, and full of hi-tech goodies. What's not to love here?
It seems that Chevy can do no wrong when it comes to redesigning and re-launching the already well-known and loved Malibu. With this latest version, they've done everything very right from the look, to the offered trims and everything in between.
The New Eye-Catching 2016 Chevrolet Malibu
First, let's talk about that new exterior design. Sleek, modern and sophisticated, Chevrolet has taken the Malibu to a whole new level of cool and relevant. Gone is the boxier front nose, and in its place is a toned, angular front fascia that still sports Chevy's iconic bowtie, but in a much more subdued way, cushioned between much more streamlined upper and lower front grilles.
Then there's the body shape of the 2016 Malibu. The back C-pillars are sharply raked, giving this Chevy a very attractive and popular-at-the-moment grand coupe silhouette. Added length overall as well as a wider wheelbase ensure this new Malibu has a much more muscular and aggressive stance on the road, as well.
There are also brand new wheel choices that include two-tone 17" as options, as well as chrome applique door handles and new Malibu script on the doors. This edition is all about the details, and Chevrolet has put plenty in this 2016 Malibu.
But it's not all about the look. For 2016, Chevrolet's given the Malibu two new engines (plus a hybrid): a 1.5L turbocharged 4-cylinder that'll give you 160 horsepower and 184 lb-ft of torque, and a 2.0L turbocharged mill that'll give you 250 horsepower and 258 lb-ft of torque.
If it's the more powerful engine you want, your only transmission choice is Chevy's new 8-speed automatic. However, if you go for the 1.5L turbo you can have it coupled to the outgoing 6-speed automatic.
A Beautiful Package to Hold All the Top-Quality Amenities
The 2016 Chevrolet Malibu also comes equipped with all standard of safety features such as lane keep assist, auto-braking and front-pedestrian avoidance both seen for the first time in the Malibu. Also available is the third generation of Chevy's MyLink infotainment system that offers up Apple CarPlay and Android Auto for all you smartphone users. Oh, and there's 4G LTE Wifi hotspotting in the car, too.
Gorgeous to look at, fun to drive, and full of hi-tech goodies. What's not to love here?
Overall, the brand new 2016 Chevrolet Malibu is a real looker, but has the guts to back up its good looks. With new engines, a new exterior, and plenty of interior amenities and creature comforts, you'll be hard-pressed to find anything wrong with this new version, and we're sure it's going to be as popular as the outgoing model.
To find out more about the brand new 2016 Chevrolet Malibu, head down to Bruce GM today to speak to one of our experts. And don't forget to book a test drive, too.