2016 Chevrolet Corvette Z06: Stuff of dreams
April 19 2016,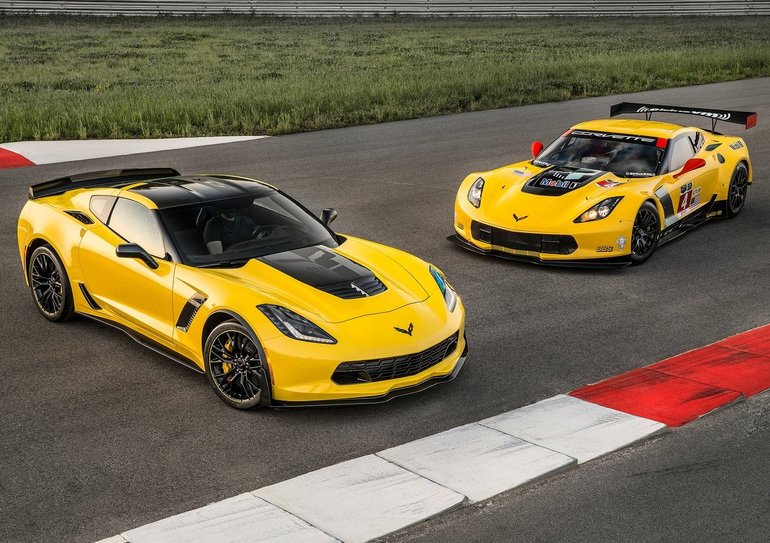 This is the epitome of Sunday road trip adventuring or weekend track warrior outings. The Vette will do it all, and do it in stride.
We all grew up with that poster on our wall; the one of the dream car we drooled over every night, imagined the engines noises for, and pictured ourselves owning and driving later on in life when we finally "made it."
The Race Car Made for On and Off The Track
The 2016 Chevrolet Corvette is just such a dream car, and while there have been multiple generations and iterations over the years, this latest C7 model is perhaps the best-looking and best performing. The new Stingray on its own is impressive, however, at the tale-end of 2016, GM decided it just wasn't good enough, so they beefed things up a bit with the Z06 version.
Available in either coupe or convertible guise, the 2016 Corvette Z06 might not look all that different than the non-Z06 version, but line up next to one at a light and you'll quickly, and we mean in like 3-ish seconds, realize the difference. That's because thanks to the 6.2L V8 that produces 650 horsepower and 650 lb-ft of torque, the Z06 will hit the 100km/hr mark from a standstill in 3.3 measly seconds.
Um, yeah.
Oh, and there's an available 7-speed manual or an 8-speed automatic, so you can harness in all that raw American muscle when you're behind the wheel. Power is sent to the rear wheels -- precisely where it should be -- and the available convertible version, while shaving off close to 90lbs, doesn't affect the vehicle's drive. Whichever body type you choose, you'll be impressed with the Vette's cornering and handling abilities on and off the track.
Jaw Dropping Gorgeous
If you hadn't noticed, the 2016 Chevrolet Corvette Z06 looks pretty badass. With a front end that screams intimidation and muscular brute force, it's the rear that really does it. Perhaps the most hardcore backside in the industry, it's rather like the Vette is giving the entire auto world the middle finger with its overly large, in-your-face aggressive quad tailpipes and jacked up bumper. All angular lines, edges and creases, the 2016 Vette Z06 is a real looker, and has some serious road presence to say the least.
Of course, inside, there's only room for two, but that's fine. This is the epitome of Sunday road trip adventuring or weekend track warrior outings. The Vette will do it all, and do it in stride. Leisurely weekend drive? No worries. Time-attack at the track? It'll handle it. Quarter-mile drag? Done.
There's absolutely nothing basic about the 2016 Chevrolet Corvette Z06. To find out for yourself and learn more about this sizzling sports car from GM, head down to Bruce GM Middleton dealer today to speak to one of our experts and don't forget to book a test drive. If not, make sure you book a regular Vette -- you'll be just as impressed!