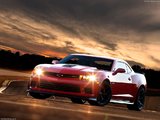 July 22 2015, Bruceautogroup
2015 Chevrolet Camaro: The Manliest Car Ever?
Those were the good ol' days; and they're back. Thanks to cars like the brand new 2015 Chevy Camaro, you can relive those muscle-car memories, and embrace your inner drag-strip indulgence at the same time. While we're eagerly waiting the sixth generation that was first introduced in the Motorcity, no less, the 2015 is nothing to scoff at and still a winner. Released in 2010, this Chevy Camaro...
Read more