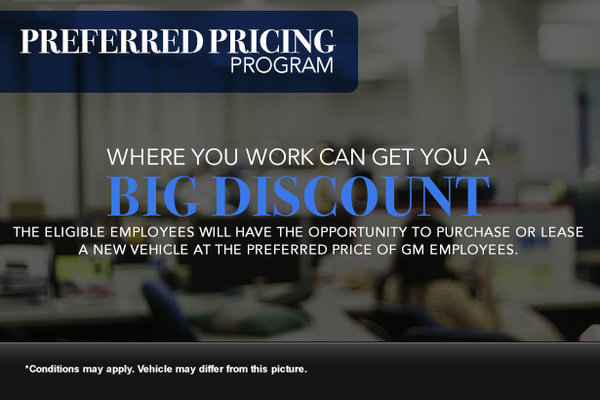 Take advantage of Preferred Pricing!
Bruce Chevrolet Buick GMC Middleton wants to show its appreciation to employees of Preferred Pricing companies by offering the Preferred Pricing program. Eligible employees will have the opportunity to purchase or lease a new vehicle at the preferred price given to Bruce Chevrolet Buick GMC Middleton employees.
This discount can be combined with any retail offers and promotions available at Bruce Chevrolet Buick GMC Middleton, if applicable.
Eligibility
Click here and enter your employer's name to find out if you are eligible
FAQs
Is there a limit to the amount of vehicles I can purchase?
The maximum amount is two new vehicles, purchase or lease, per calendar year.
How much of a discount can I expect?
The GM Employee Price will be applied to the vehicle purchase made by eligible employees. The discount will be shown through the Preferred Pricing worksheet that we've created, which will establish all the costs associated with the purchase, as well as to guarantee that all the applicable discounts will be added.
Does the Preferred Pricing Program extend to family members?
The Preferred Pricing program extends to the eligible employee and the employee's spouse.
Are all types of vehicles eligible?
The majority of our models are eligible for the Preferred Pricing program. Some trims and models may not be eligible, and we may have a limited quantity of certain models.
For more information, please contact us by using our contact form, our online chat, or calling us at 1 855 854-2488. And do not forget to book a test drive today!